During WW II, the NFL allowed teams to merge to save on the cost of travel. In 1943, Pittsburgh and Philadelphia got together to form the Steagles. They did pretty well, finishing 5-4-1.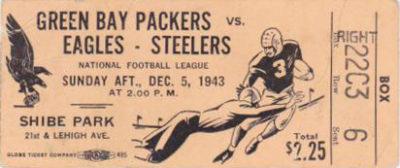 The following year the Steelers joined with the Chicago Cardinals, calling the team the Car-Pitts. They lost every game in the one year they were together, earning the unenviable epithet, "The Carpets," because everybody walked all over them.
Only once has a team scored just four points in a game in the history of professional football. On November 23rd, 1923, the Chicago Cardinals lost to the Racine Legion, 10-4. The odds of that happening again have grown to 24,832 to 1.
The average length of an NFL game is 3 hours, 10 minutes, and 34 seconds, during which time only 11 minutes of actual action takes place.
Former Redskins quarterback Joe Theismann:
John Ralston, former Denver Broncos coach: "I finally gave up coaching for health reasons. The fans were sick of me and I was tired of them."
Wish List:  Tom Coughlin will return to the Giants as General Manager and Bill Cowher will come out of retirement to be the head coach.
The Baltimore Ravens are named after the poet Edgar Allan Poe, who lived in Baltimore. The three Raven Mascots are named, appropriately enough, Edgar, Allan, and Poe.
The 'G' on the side of the Green Bay Packers' helmet stands not for Green Bay but rather for "Greatness."
Deion Sanders is the only person to score a touchdown in the NFL and hit a home run in MLB in the same week. He is also the only person to have played in both the World Series and the Super Bowl.
About 56% of an NFL game on television is devoted to replays.
NFL teams have an average value of one billion dollars. MLB teams are valued at half that amount.
The only scoreless game in the NFL was in 1943 when the Lions and the Giants battled to a scoreless tie.
The huddle was invented by Paul Hubbard, a legally deaf quarterback at Gallaudet University, a college for deaf students, so his teammates could understand his signals better.
Approximately 80% of Super Bowl tickets go to corporate sponsors.
During halftime of the Super Bowl, there are approximately 90 million toilet flushes. That is equivalent to 3.5 minutes of water flowing over Niagara Falls.
The Tampa Bay Bucs lost their first 26 games. Near the end of that streak, a reporter asked coach John McKay what he thought of his team's execution. The affable McKay responded, "I am in favor of it."
Sports Illustrated notes that two years after NFL players retire, approximately 78% of them are bankrupt.
Football Coach Lou Holtz: "Don't tell your problems to other people. Eighty per cent of them don't care and the other 20% are glad you have them."