Nat 'King' Cole and Eva Gabor 
When Philadelphia Eagles' linebacker Chuck Bednarik clothes-lined Frank Gifford in 1960, I was in the company of noted singer Nat 'King' Cole, seated by chance right next to him in the upper level of Yankee Stadium.
Nat was one of the premier entertainers of his day. It was ironic that I was 
sitting in "The House That Ruth Built" next to the man most credited with supplying Capitol Records with the money used to build their circular corporate headquarters in Los Angeles dubbed "The House That Nat Built."
Waiting for the game to start, who should come hurriedly walking up the crowded steps holding the handrail but Eva Gabor. Nat, seated to my right about six seats in from the stairs, was looking down at the field when I turned to him and said, "Nat, look, Eva Gabor!" Nat yelled, "Eva, dahling!" She waved and shouted over the din, "Call me!" Nat cupped his ear as if to say, "I can't 
hear you!" I told Nat she had said to call her. Nat gave Eva a thumbs up as she toddled to her seat above us.
That was pretty cool. Communicator to the stars!
Nat and I chatted throughout the game and shared the fear that Gifford could have been killed in that vicious collision with Bednarik.
The Giants lost and the Eagles went on to beat Green Bay in the NFL title game. It was after that championship game that Vince Lombardi gathered the Packers in the locker room and told them that if they stayed together and fought with him, they'd never lose another championship game.
And they never did, winning five titles through the 1960s, including the first two Super Bowls, becoming the first NFL dynasty.
The photo of Bednarik standing over an unconscious Gifford on the late afternoon dusty surface of Yankee Stadium is considered amongst the most iconic sports photos of all time, taken in a different era when concussions were an accepted part of the game.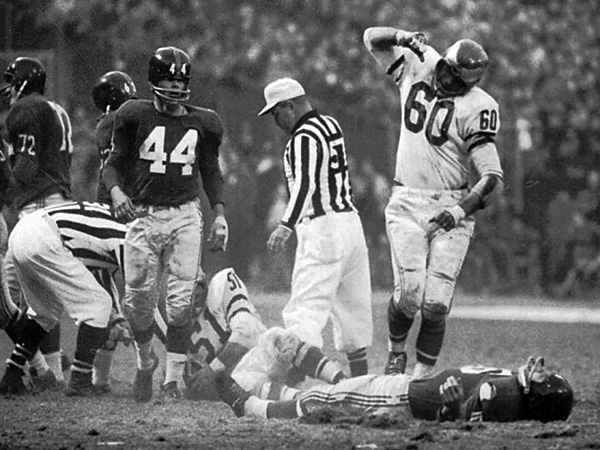 On August 9, 2015, Gifford died from natural causes at his Connecticut home one week before his 85th birthday.
In November 2015, Gifford's family revealed that he had suffered from chronic traumatic encephalopathy (CTE). The family said, "After losing our beloved husband and father, Frank Gifford, we as a family made the difficult decision to have his brain studied in hopes of contributing to the advancement of medical research concerning the link between football and traumatic brain injury … We decided to disclose our loved one's condition to honor Frank's legacy of promoting player safety dating back to his involvement in the formation of the NFL Players Association in the 1950s."
Bednarik died on March 21, 2015. He was 89. Although the Eagles released a statement saying he died after a "brief illness," Bednarik's daughter, Charlene Thomas, disputed that claim. She said he had Alzheimer's, had been suffering from dementia for years, and that football-related injuries played a role in his decline.
The names of Bednarik and Gifford will be forever intertwined in football history.